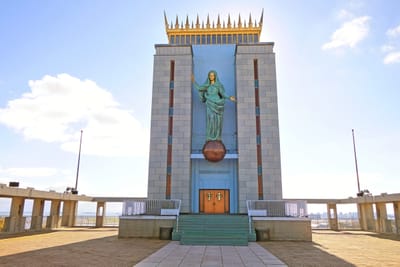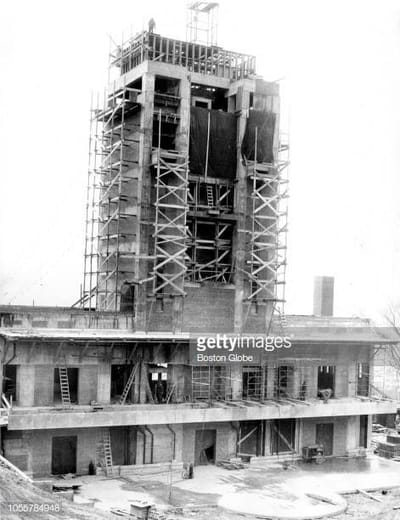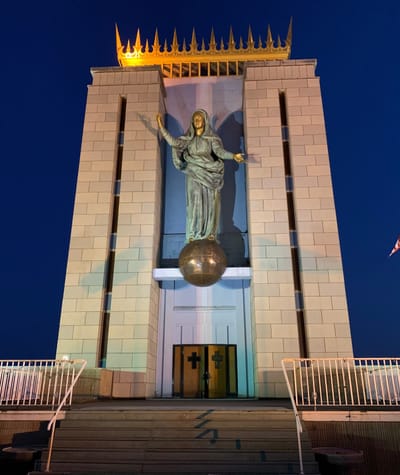 The imposing building with a mesmerizing view of Logan Airport and the City of Boston, deserves a place among the most remarkable landmarks in the City of Boston.

The Madonna Queen of the Universe shrine was founded by the Don Orione Fathers in 1954 and today is the headquarters for the Don Orione order in the United States. It overlooks the city from the northeast, and features spectacular views of Boston Harbor and the sprawling runways of Logan Airport to the south.

The immense gray granite block structure and its gold crown-like top are visual distinctions in East Boston. The 35-foot-tall bronze and copper statue of the Blessed Mother was created by Italian-Jewish sculptor Arrigo Minerbi, who escaped persecution during the 1940 invasion of Italy by German Nazi forces in part due to the refuge provided him by the Don Orione Institution in Rome.

The original Madonna statue, also 35 feet tall, was created by Minerbi and erected on the hill of Montemario, overlooking Rome. A replica of the six-ton masterpiece was later made and shipped to the Don Orione Fathers in East Boston in three pieces. It was reconstructed in the city and dedicated as "The Madonna Queen of the Universe" by then-Archbishop Richard Cushing in 1954.

The statue was originally erected over the Don Orione Nursing Home at Orient Heights; it was later moved to its current location in the spacious plaza across the street. In the 1980s, the construction of a modern four-story underground shrine was completed below the plaza.

The founder of the Don Orione Fathers, St. Louis Orione (1872-1940), was a devout Italian priest who committed himself to helping orphans, the poor, the sick and the elderly regardless of their ethnicity.